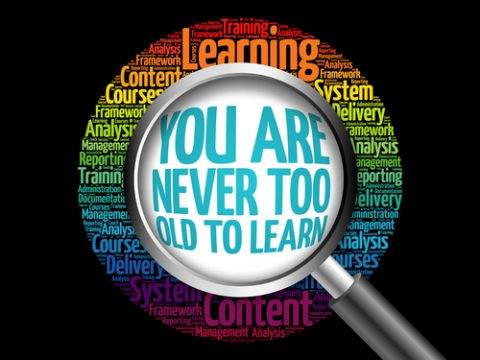 We've all heard it: You can't teach old dogs new tricks. According to researchers at Dartmouth University, that's not quite true. It seems science bears out the fallacy of that old adage: You can teach old dogs new tricks.
The study, done by graduate student Alex Schelgel and published in the Journal of Cognitive Neuroscience, found that the human brain continues to show the changes of active learning processes for as long as an adult continues to experience, explore and learn new things.
Lifelong Learning
This is a term that's bandied about in education circles quite a bit. The goal is to motivate teachers to help their students develop habits that will keep them questing for learning throughout their lives. But what exactly does that mean?
The Center for Lifelong Learning & Design at the University of Colorado, Boulder, posits that learning across a lifetime is a necessity rather than a luxury. A person who is a lifelong learner is one who keeps his mind and body engaged, regardless of age, by actively seeking knowledge and experience. This isn't some newly discovered theory, however. Lifelong learning has been a requirement for many in past generations.
Doctors are constantly learning about new medicines, new procedures and new treatments. Lawyers must keep abreast of current law, learning the intricacies of new legislation signed into law. Now we're discovering the science behind it – that continuing to learn is the key to keeping our minds sharp and focused as we age.
Benefits of Learning
It is the pursuit of knowledge that provides the benefits of lifelong learning. In adults over 50, it can be something done for the fun of it, such as learning to dance or improving a golf swing. Some benefits associated with continued learning include the following:
Helps the mind's ability to focus, improving memory
Fosters increased self-confidence
Increases socialization, preventing isolation
Provides recreation
Improves skills already possessed
Studies also show that performing brain-stimulating activities, such as reading books, composing letters and everyday problem-solving from childhood through old age, may help stave off signs of dementia, such as memory loss.
Old Is a State of Mind
Henry Ford once said, "Anyone who stops learning is old, whether at 20 or 80. Anyone who keeps learning stays young. The greatest thing in life is to keep your mind young."
Robert Wilson, a professor of neurological and behavioral sciences at Rush University Medical Center, Chicago, Illinois, backs up the wisdom of Ford's observation. Certain actions can increase or decrease our vulnerability to mental decline, according to Wilson. He conducted a study that shows keeping your brain active promotes effective operation of certain brain circuits.
People who frequently engaged in mental activity later in life demonstrated a 32 percent lower rate of mental decline than those who participated in typical, average activity. Those who did not actively participate in focused mental activity, such as learning a new skill or studying a specific topic, experienced a 48 percent faster decline in mental abilities, according to Wilson's findings.
According to Wilson, intellectually challenging activities act as a support to brain function because the brain constantly tries to adapt to the changes it's asked to do.
Get Up and Go for It!
The golden years may not be so golden for a brain that becomes sedentary. Senior citizens do not have to go quietly into that dark night. Get up and go for it, like Tim Dignen of Maryland, a veteran of the U.S. Air Force and a 30-year retiree from his position as a licensed electrician at the U.S. Naval Academy in Annapolis.
At the age of 62, Dignen graduated from Chesapeake College May 24, 2017, with an associate degree in nursing. He also earned the 2017 Harrison Award, the top graduate honor bestowed at Chesapeake.
Dignen says he's just getting started. Sounds like a plan.