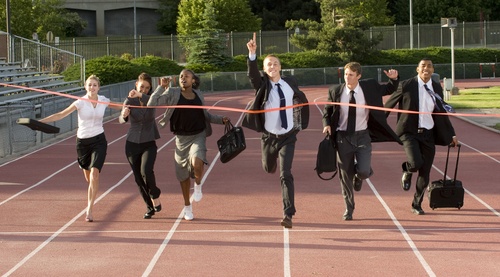 According to a 2015 survey from the Pew Research Center, jobs requiring average or above-average social and analytical skills experienced a growth in employment and wages ranging from 77 to 83 percent. Conversely, occupations depending upon v manual labor skills experienced an employment/wage increase of only 18 percent during the same period.
There's no question that, in today's job market, demand is highest (as are wages) for people with more skills, education and training. Fortunately, thanks to relatively recent innovations in digital technology, there's a wealth of online tools available for those who want to enter the workforce with a higher degree of preparedness.
Here are five of the best digital tools for people who want to optimize their employment potential.
1. Game-Based Simulations
Decision-based simulations, presented in a gaming scenario, can provide a valuable way to for students to boost their analytical and decision-making skills — skills that are crucial in the workforce arena. In addition, a gaming format also offers interactive sessions with other students, which in turn can boost social skills through fun competition.
2. E-Learning Courses
Software e-learning programs such as Adobe Captivate, Articulate Storyline and Soft Chalk provide effective e-learning solutions for all educational levels. Likewise, the Internet also offers a wide variety of more specialized e-learning programs, ranging from language-learning courses to remedial tutorials in reading, math and other specific skills.
These e-learning courses provide a one-on-one, personalized format that some students view as less intimidating and more user-friendly than a classroom venue. Plus, students can choose e-learning courses that will help them hone the specific skills that are necessary to their career choices.
3. Videos and Digital Animations
When it comes to learning, sometimes a picture is worth a thousand words — especially if it's a moving picture with engaging, compelling content.
Consider this: SciShow, one of YouTube's premier educational channels, has more than two million subscribers and boasts more than 3.1 million minutes of viewing time each month. The key to SciShow's success lies in its engaging content and presentation coupled with a unique format that encourages viewer participation.
Just as corporate training videos are used to hone staff skills in specific areas, e-learning videos can provide training in a variety of specialized skills for today's job seekers.
4. Mobile Applications
According to a 2015 study conducted by McGraw Hill, more than 81 percent of college students surveyed used mobile devices for study purposes. With digital's "learning on the go" capabilities, more students are enjoying the convenience of being able to pick up their learning tools wherever they happen to be — whether they're riding a subway train or jogging. Mobile and tablet apps put learning at your fingertips — and their instant accessibility helps learners study more often.
5. Customized LMS
Customization is the current buzzword in software, and today's learning management system (LMS) software can be customized to meet the needs of any student. Once students choose their preferred e-learning courses, LMS software provides a one-stop organizational center by administering, tracking and delivering these courses at the appropriate times.
An effective suite of customized e-learning courses, coupled with an LMS platform, can enable learners to concentrate on sharpening the specific skills they need to help them seamlessly enter the workforce.
In the past, students have had to resort to night school and time-consuming adult education classes in order to close their educational gaps — and all too often, these classes were presented in a generalized format that didn't concentrate enough on the skills they needed for their chosen careers.
Thanks to these innovative e-learning solutions, however, today's students can avail themselves of educational opportunities ranging from remedial training in math and reading to advanced decision-making and problem-solving skills geared toward a specific career choice. With the help of these digital learning tools, students can arm themselves with the skills they need to help them effectively bridge the gap from classroom to job market.
Sources
The learning management system (LMS) market has grown along with technology. E-learning solutions are available for almost any education required these days. Further, e-learning is a $182 billion industry in 2017, with annualized 5 percent growth. This educational platform requires constant instructional innovation to help students learn and retain information.
How to make sure course material is both interesting and keeps students engaged? We have a few ideas to help.
Empower Faculty Members
Be sure that faculty members have some control over the course or program design process. Rather than creating a course and dropping it on instructors, involve them from the start. Their input is invaluable in creating courses. They know what it takes to engage their students and get them excited about the subject they teach. Further, they can try alternative instructional innovation approaches and scale up successes.
Keep It Interesting
Most millennials learned to use computers in elementary school. Online content is second nature to them, and they will likely get bored if they are not challenged. Making coursework compelling means using video content and gamification to keep them interested. Be sure that faculty members have the necessary tools to add this type of content.
Accessibility Is Key
Innovation makes the e-learning experience better for the vast majority of students. Yet, it can sometimes cause accessibility issues for some. Some students might lack a strong internet connection needed for video or gaming. This puts them at a disadvantage in completing their work. Empower faculty members to make accommodations for students as needed.
Innovation Maximizes Student Success
Creating personalized experiences drives better outcomes for learners of all ages. Digital animations, video and gaming simulations get and keep students' attentions. Additionally, measurement tools ensure they are grasping the material and retaining it.
Mapping digital activities to specific sections and the outcome expected are important. E-learning courses should offer a series of interesting lessons. These can include visualizations, including graphs, videos, animations, and simulations. This type of content keeps the student's attention and encourages critical thinking.
Mastering critical needs of e-learning are challenging for faculty and administrators. Partnering with a smart and focused LMS company takes the guesswork out of the equation. Powerful learning techniques lead to great student outcomes. Empowering faculty and learners in instructional innovation is key to success.